When you are writing a veterinary assistant cover letter to apply for a job, it's important to include all the requisite information efficiently.
Information like a contact section, salutation, introduction to the hiring manager, all the information on why you are qualified for that job, closing, and finally your signature.
Important: Include information in your letter about how you possess the requirements that the employer is seeking and particular skills.
How to Write a Professional Veterinary Assistant Cover Letter?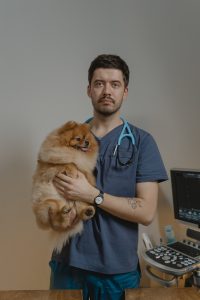 Write your full name and contact information at the top of your cover letter.
Important thing is to mention where you found the job posting.
In the first paragraph explain why you would be great for a veterinary assistant.
Lead your experiences, qualifications, and accomplishments for the opportunity.
Thank the reader, make him want to continue discussing more the role in more detail.
At the end of the cover letter, make a professional thank you and write your full name.
Example of Cover Letter Sample
[YOUR NAME]
[Phone Number] [e-mail]
[Date, Year]
Application for the position of Veterinary Assistant
Dear Hiring Manager,
I am submitting my cover letter for the Veterinary Assistant position.
I saw your advertisement in Veterinary World magazine.
My career in the animal industry has strong organization, and clinical skills, which will make me an asset to the veterinary team.
My past years of experience working as a Veterinary assistant makes me passionate about animal care, I've been loving animals for my whole life.
It's will be my pleasure to be honored to join your team.
Past three years I have been working as a veterinary assistant, my role was preparing patients for surgery, and acting as a liaison between Veterinarians and pet owners.
My professional experience includes:
Medication and immunization administration,
X-Ray and veterinary equipment operation,
Laboratory and medical procedures,
Large and small animal nursing.
Also includes excellent communication skills, tact, superior problem-solving abilities, highly organization.
Commitment and perseverance are my strong sides and I believe in the importance of animals and pets.
It will be a great opportunity to work at your clinic.
Thank you for your consideration
Sincerely
[Your Name]
[Your Phone Number]
[e-mail]
General Tips
You should always tailor for your job.
For every next job remember to change the address information, and date.
Short paragraphs should be all your needs.
The longer letters look cluttered and do not encourage the readers to see all the relevant details. You should know that veterinarians are usually very busy, don't write an essay.
When your write a cover letter never use strange fonts, brightly colored paper, photos, or clip.
The Introduction
The best is to address your cover letter, directly to the hiring manager, or recruiter. Never using generic greetings, always use the relevant title, such as "Dear Ms. Winslow"
The best is to write an introduction, the opening paragraph on your cover letter should explain why you are for the veterinarian assistant.
Focusing on the Requirements
For the job requirements, you should write few sentences for your qualifications and training as a veterinary assistant.
It's important to focus on training and experience, that is relevant to the role you are applying for.
In your cover letter the final paragraph you should mention one or two noteworthy things about the facility practice, and why you will love to work there.
The final thing by closing your letter is to thank your reader for their time.
Finishing Up
At the end add "Sincerely" and your full name.
Make it to be easy to read, you can write beautiful and how your story compelling is, but if your cover letter is ugly looking will never get attention.
Make sure to choose recommended resume fonts.
Look at the font size to be below 12 points.
Set your margins to 1" or 1½", whoever is long or short your cover letter, always play with the margins.
It's better to be a single page, managers are pressed for time, if your cover letter a multi-page they won't read.
Make your cover letter on the page, something between 300-500 words.
Be Unique in Each Job Application
You should always write unique letters for each company, make sure you demonstrate awareness of the company's goals, and tell them how you can help achieve them.
Good luck with your applications!