Featured Online Programs
Sponsored
Thinking about becoming a dog groomer, or a pet groomer in general?
Then good news!
This is a rewarding, dynamic, and profitable career path.
But that's not all.
Becoming a dog groomer is simpler compared to most careers.
Keep reading this guide to get all the information you'll need.
Let's dive in.
---
What Does a Dog Groomer Do?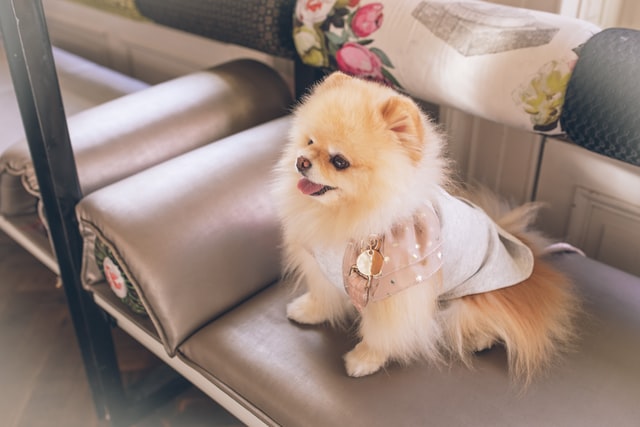 A dog groomer is someone who helps make the dogs as attractive as they can be.
They work in a variety of places, such as:
Kennels
Pet shops
Veterinary clinics
Mobile units
They also educate owners on how to care for their pets' coats properly.
Duties
A lot of people think that a dog groomer just makes a dog look good.
But they do more than that.
They are to:
Maintain the dog's physical appearance
Brush and cut fur
Clip nails
Clean ears
Bathe
Dry the fur and style it
Sanitize shears and combs
Schedule appointments
Report assessments or issues to owners
---
How Much Does a Dog Groomer Make?
A dog groomer's income will depend on several factors.
These are:
The groomer's experience
What kind of grooming they are doing
Their state of residence
Where they are working
For instance, a groomer who styles dogs for dog shows makes more than a groomer in an animal shelter.
But usually, a dog groomer can make an average of $30,053 per year.
Average National Salary:
$30,054
*Salary information last updated 2022
Average Annual Salary by State
| State | Avg. Annual Salary |
| --- | --- |
| Alabama | $31,642 |
| Alaska | $37,851 |
| Arizona | $33,327 |
| Arkansas | $31,259 |
| California | $38,038 |
| Colorado | $34,013 |
| Connecticut | $36,996 |
| Delaware | $35,927 |
| Florida | $32,783 |
| Georgia | $33,125 |
| Hawaii | $34,830 |
| Idaho | $31,911 |
| Illinois | $35,827 |
| Indiana | $32,701 |
| Iowa | $32,321 |
| Kansas | $33,059 |
| Kentucky | $31,716 |
| Louisiana | $33,389 |
| Maine | $34,440 |
| Maryland | $37,410 |
| Massachusetts | $38,258 |
| Michigan | $35,303 |
| Minnesota | $35,819 |
| Mississippi | $31,660 |
| Missouri | $33,059 |
| Montana | $33,095 |
| Nebraska | $32,674 |
| Nevada | $34,978 |
| New Hampshire | $36,458 |
| New Jersey | $40,696 |
| New Mexico | $31,783 |
| New York | $40,696 |
| North Carolina | $33,229 |
| North Dakota | $31,420 |
| Ohio | $33,465 |
| Oklahoma | $33,139 |
| Oregon | $35,153 |
| Pennsylvania | $38,192 |
| Rhode Island | $36,099 |
| South Carolina | $33,105 |
| South Dakota | $30,916 |
| Tennessee | $31,817 |
| Texas | $34,474 |
| Utah | $34,474 |
| Vermont | $35,018 |
| Virginia | $37,410 |
| Washington | $36,907 |
| West Virginia | $34,921 |
| Wisconsin | $35,517 |
| Wyoming | $31,705 |
---
Step-by-Step Guide to Becoming a Dog/Pet Groomer
Step 1

Get Your High School Diploma or GED

Before you become a dog groomer, you will need your high school diploma or your GED.

This is something employers will look for when you are seeking either:
An apprenticeship
Formal training on dog grooming
Step 2

Familiarize Yourself with the Job

You should know that dog groomers aren't just there to brush dogs' fur.

This job is very physical, challenging, and dirty.

It's not always that you will be working with healthy, well-taken care of dogs.

You'll also be dealing with ones that have skin conditions and matted fur.
Step 3

Try Grooming a Dog

Chances are, you have a friend or family member who has a pet dog.

You can ask them if you can groom their dog to gain some experience.

This allows you to get a small taste of what it will be like to work as a dog groomer.

But keep this in mind:
Grooming a dog that knows you is a lot different than grooming one that doesn't.
So it's best if you try to groom other dogs that are unfamiliar with you as well.
This way, you'll be able to learn how to handle grooming dogs with different personalities.
Step 4

Volunteer at a Shelter
Shelter animals had a rough life.
So the one thing they really need is someone to take care of them.
Someone who sees to their basic needs.
By volunteering here, not only will you be able to give them affection but you can also gain some benefits.
You can:
Get some experience with different breeds of dogs
Receive advice on dealing with large, sick, or aggressive dogs
Help with bathing and grooming dogs
Have a better idea of whether this line of work is for you
Step 5

Become a Groomer's Assistant

When you assist another groomer, you'll get hands-on experience about what it's like to be a groomer.

You can try applying at pet stores as they are regularly in need of grooming assistants.

These stores, however, often hire assistants who'll eventually enroll in training programs in the future.

As an assistant, you'll mostly do the bathing work.

The trimming, cutting, and fine cleaning will be left for the store's groomer.

But you can observe them to learn the know-hows, especially proper techniques in dog grooming.

Or if you know a dog groomer, you can directly ask them if they can mentor you.
Step 6

Attend a Dog Grooming School

Enrolling in a formal training program has its advantages career-wise.

So if you seriously want to become a dog groomer, a program with 400 to 650 hours is a good bet.

Not only is the program accredited, but you can learn hands-on grooming sessions in class.

On the other hand, if your locality has no program available, you can enroll online.

But note that you may not have hands-on training there.

So it may not be worth it.
Step 7

Learn Styles and Trims Suitable for Different Breeds

This is going to be a big part of the training program.

You will learn the different styles suitable for each dog breed.

Some basic styles and trims are:
Kennel cut
Teddy bear trim
Show groom
Full coat
Exotic
The American Kennel Club (AKC) has created a standard for the grooming profiles of different dog breeds.
These profiles often change, so make sure to stay up-to-date on their latest standards.
Despite that, owners are still the ones who make the ultimate stylistic decision.
Step 8

Learn How to Spot Warning Signs

A dog groomer is usually the first person to spot things when something is wrong with a dog's well-being.

Below are some things to watch out for:
Signs of illness or injury such as cuts, swelling, thrush
Itching due to parasites like ticks
Changes in activity level or temperament
Indications of abuse or mistreatment
Find Schools »
---
Education Needed to Become a Dog/Pet Groomer
There isn't a standard formal education when it comes to becoming a dog groomer.
Instead, you can do an apprenticeship with an experienced groomer.
This usually lasts up to 10 weeks.
As a new groomer, you're taught how to:
Handle pets safely
Do basic pet hygiene
Provide other types of maintenance services
The experience you gain as an apprentice will help you get employment at the entry level.
And if you'd like to go to school, there are 50 state-approved pet grooming schools you can enroll in.
Each of them offers different programs that last from two weeks up to a few months.
Among them, the AKC is widely recognized as a trusted expert in groomer education.
Their groomer education program offers a continuing education opportunity for you.
This way, you can stay updated on the best practices for pet care, health, and safety.
However, many employers will hire based on your experience, not your education.
So if you do decide not to pursue any formal training, then that's okay too.
Here's a video to give you insights into this profession.
Video About The Career
---
Certification and Licensing
Animal groomers don't have any licensing requirements.
You can get a voluntary certification from the National Dog Groomers Association of America.
Having this will exhibit your proficiency in:
Maintenance
Animal safety
Grooming
To earn it, you must:
Attend a training workshop
Demonstrate practical grooming skills
Take and pass two exams
The organization will provide the study materials and test information.
Average Training Program Duration:
0-6 Months
If you apprentice with a groomer, the apprenticeship usually lasts six to 10 weeks.
If you get formal training, this can last anywhere from two weeks to six months.
---
Popular Programs
---
Job Outlook and Growth for Dog/Pet Groomers
Per the latest data from the U.S. Bureau of Labor Statistics, animal care is expected to grow up to 34% by 2030.
The reason mainly stems from pet owners willing to pay a lot of money to take care of their pets.
Also, because of the number of households living with service/companion animals, the need for animal care has increased.
As a result, it greatly affected the dog/pet grooming business.
Another factor is the number of retirees over the next couple of years.
And so, many employers will look for new hires to take over and help out in their stores.
Overall, the job prospects look good.
So you won't have to worry about unemployment any time soon.
Employment Growth Projection:
34%
That's a higher than average projected growth of 93,700: Interest Over Time
---
Should You Become a Dog/Pet Groomer?

Overall Satisfaction:
High
People who love their job are very much satisfied with their careers as dog groomers.
Seeing how good the dog/pet looks after grooming will make any groomer proud.

Average Salary:
Medium
The average annual salary for a dog groomer is $30,053.
That's roughly an average of $11.18 per hour.
But this number can still vary depending on:
Your experience as a dog groomer
The skills you acquired
The state where you are working
Job Growth Outlook:
High
The job outlook for a dog groomer is particularly good, with a 34% growth rate by 2030.
With the way people treat their dogs as family members, they want to provide the best animal care for them
As a result, there's going to be a high demand for dog/pet groomers in the years to come.
Education Duration:
0-6 Months
Many employers only look at your skills and experience over formal training.
But you can't deny the advantages training can afford you.
An apprenticeship will last six to 10 weeks.
Meanwhile, enrolling in a program will go from two weeks up to six months.
Personal Skills Needed
Not everyone can become a dog groomer.
There are a certain set of skills that you need to get into this field.
Ability to handle and control a dog well
Detail-oriented
Patient
Good communication skills
Great customer service skills
---
Frequently Asked Questions
Q. How long does it take to become a dog groomer?
If you're going for an apprenticeship, it can take six to 10 weeks.
If you're going for a training program, up to six months.
Q. How much do dog groomers make?
Dog groomers can earn $30,053 per year on average.
But you can earn more when you groom dogs/pets for pet shows compared to others.
Q. What can you do with a dog grooming certificate?
A dog grooming certificate creates more career opportunities.
You can:
Open your own dog grooming business
Get more clients
Groom dogs anywhere/freelance
Learn how to do special styles and trims
It's important to note that you can do the same things even without a certificate.
In fact, a lot of employers prefer hiring someone with experience and doing an apprenticeship.
Q. What does a dog groomer do on a daily basis?
A dog groomer usually:
Maintain the physical appearance of dogs
Brush and cut a dog's fur
Clip their nails
Clean their ears
Bathe them
Style their fur
Sanitize equipment, such as shears and combs
Schedule appointments with clients
Check dogs for ticks and other problems
Report assessment and issues to pet owners
Educate pet owners about proper care of their pets' coats
Q. Where do dog groomers usually work?
Some of the common places a dog groomer works are:
Pet stores
Veterinary clinics
Kennels
Shelters
Grooming salons
Dog shows
Mobile units
Pet owners' homes
Anywhere a dog is, a dog groomer is always present.
---
How to Become a Dog/Pet Groomer by State
---
Similar Careers
Find Schools »