Featured Online Programs
Sponsored
Grooming is a job where taking care of a dog's physical health comes first.
And in Kansas, becoming a dog groomer is quite an easy process.
All you need are:
Love for dogs
Formal education
High level of dedication
Of course, you can always take an apprenticeship at a professional grooming service.
Either way, the following steps will explain to you what it takes to become a dog groomer in Kansas.
About a Dog Groomer's Duties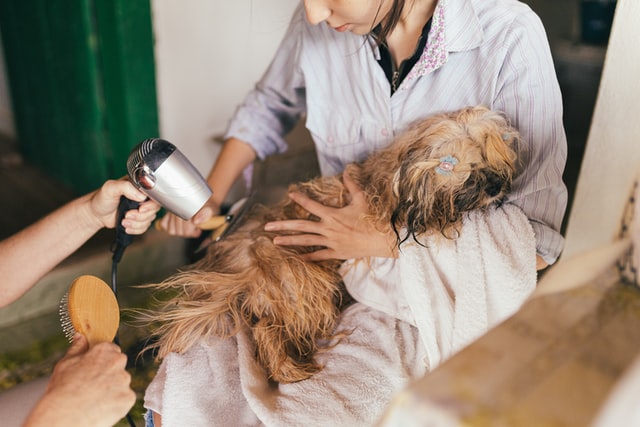 All groomers have one goal:
To help keep the physical health and appearance of their canine clients.
The usual grooming process consists of the following steps:
Brushing and detangling
Bathing and drying
Nail and hair clipping
Ears and eye-tear stains cleaning
Hairstyling
At the grooming school, you will learn different and unique grooming techniques.
Some techniques, like hand-stripping and hand-scissoring, aren't something you'll use every day.
But it can't be denied that knowing these techniques can be handy at times.
After all, you never know when you'll get a special request from a dog owner.
Better be prepared for nail coloring, different haircuts, and other unusual requests.
Oh, the things we do to make a dog good-looking and happy!
Where to Get Dog Grooming Education in Kansas
There are plenty of dog grooming schools in Kansas you can choose from.
They place importance on pre-grooming exams to prevent any health problems from occurring.
There, you will get familiarized with the different symptoms that affect the dog's health.
However, Kansas has only one state-accredited grooming school, which is located in Wichita.
This school offers a 10-week program that includes:
Bathing practices
Hair-styling techniques
Safe handling of pets
To graduate from Kansas's grooming schools, students must pass several tests.
Of course, this is all theoretical knowledge.
A good groomer should gain more practical skills by interning with an experienced groomer.
Popular Programs
Kansas Dog Grooming Program
Kansas groomers come from different backgrounds.
That's why the Pet Grooming Certificate Program has no special requirements for you.
But it is a comprehensive curriculum that will teach you everything to equip you for this career.
It doesn't matter if you have any prior knowledge or not.
Even a complete novice can finish this grooming program.
All it takes is to have the motivation and lots of dedication.
What's more, you can complete this program online and in less than two months.
Program Requirements
Becoming a dog groomer in Kansas is not as difficult as you might think.
There are no strict requirements, but there are some preferences.
For instance, preference is given to those with a high school diploma or GED equivalency.
Grooming Certification
New groomers don't have to obtain grooming certification.
You can start working as soon as you're done with formal schooling.
However, getting a certificate is proof that you're capable of working in the industry.
The National Dog Groomers Association of America offers you a chance to get that certification.
Hard work doesn't end with graduation.
To become a certified groomer, you must do:
Attend an accredited workshop
Demonstrate practical skills
Pass written exams
A more strict way of earning certification is through the International Professional Groomers.
They offer numerous certification courses to suit all the needs a groomer could have.
And it's up to you if you want to take it.
Choose wisely according to your abilities and preferences.
Licensing
Unlike other states, Kansas provides practicing licenses for animal facilities.
To get your license, you need to pay a visit to the Kansas Department of Agriculture.
Each year, all licensing facilities are inspected by the Animal Facilities Inspection Program.
This is to ensure that the:
Licensing requirements are met
Facilities are providing adequate pet service
Work Opportunities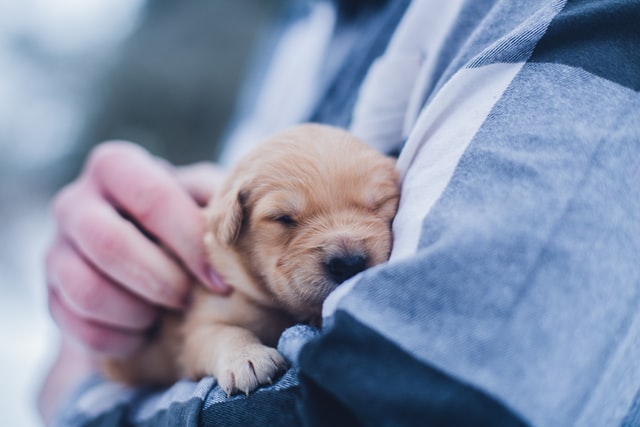 Dog grooming is a very flexible career.
You have plenty of dog grooming jobs available.
For instance, you can pursue a solo practice career like many others.
Or you can choose to work at establishments like:
Vet clinics
Pet salons
Kennels
Mobile grooming clinics
Many actually found great opportunities with mobile grooming clinics.
This is because many pet owners now like to have their dogs groomed in the comfort of their own homes.
Dog Grooming Salaries
Unfortunately, the annual salary in Kansas is on the lower side.
However, it's expected that job growth will rise by 2024.
As of this writing, the average annual salary ranges between $26,094 and $39,870.
Here are some of the highest-paid cities for dog groomers in Kansas.
| Location | Avg. Annual Salary |
| --- | --- |
| Edwardsville | $33,155 |
| Kansas City | $33,155 |
| Bonner Springs | $33,066 |
| Leaweood | $33,054 |
| Lenexa | $33,054 |
| Mission | $33,054 |
| Overland Park | $33,054 |
| Basehor | $33,020 |
| Lansing | $33,020 |
| Olathe | $32,964 |
Regional Salary in Kansas
| Region | Employed | Avg. Annual Salary | Avg. Hourly Pay | Top 10% Annual Salary | Bottom 10% Annual Salary |
| --- | --- | --- | --- | --- | --- |
| Lawrence, KS | 190 | $25,800 | $12.4 | $36,770 | $19,060 |
| Manhattan, KS | 130 | $28,300 | $13.61 | $44,720 | $18,090 |
| Topeka, KS | 240 | $25,620 | $12.32 | $37,790 | $18,570 |
| Wichita, KS | 750 | $27,610 | $13.28 | $38,950 | $19,190 |
* Salary information based on the May 2022 Occupational Employment Statistics (OES) Survey for Animal Caretakers, OCC Code 39-2021, BLS.
* Employment conditions in your area may vary.
For more complete and updated salary information, you can check out Salary.com.
Helpful Grooming Resources
We encourage every groomer to visit these websites:
These sites can help you learn more information about dog grooming and industry news.
NDGAA, for instance, holds workshops and seminars all year long.
You will be able to meet and exchange experiences and insights with other groomers.
And so, attending them will be very beneficial to your career.
Meanwhile, the Kansas associations listed above help you find a job or even do volunteer work.
Final Words
It takes a lot of effort, time, and motivation to become a dog groomer in Kansas.
But we believe that you will find it worth everything you invested.
Once you get the hang of the business, you'll understand the beauty behind this career.
That is, a well-groomed dog is a happy and healthy dog.
How to Become a Dog/Pet Groomer by State