Featured Online Programs
Sponsored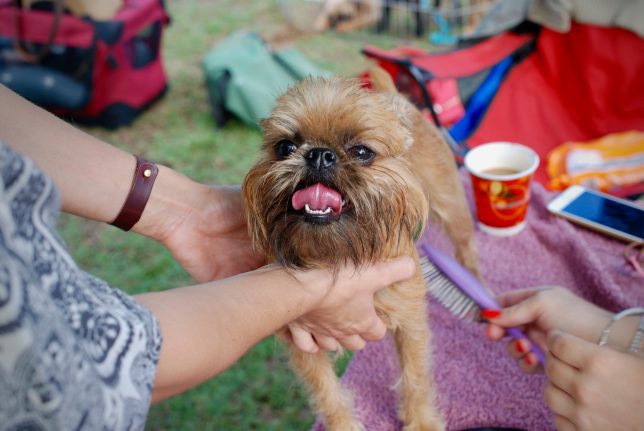 Pet owners heavily rely on dog groomers for their pet's health and looks.
That's because these people are professionals qualified to help their beloved animals.
To make them look perfect.
For those aspiring to become a dog groomer, we recommend that you first get acquainted with what the job entails.
Being a dog groomer has a lot of responsibilities, and knowing them gives you an idea of what your future in this career looks like.
Job Description and Duties of Dog Groomers
Becoming a dog groomer in Texas has never been that easy.
However, it's an exciting and meaningful profession that offers a lot of career opportunities.
It's a rewarding career that has competitive pay and high employment demand.
In fact, dog groomers are able to work in numerous animal care facilities, including:
Dog kennels
Pet stores
Animal shelters
Veterinary facilities
Luckily for you, Texas has various dog grooming schools that introduce students to the profession.
They intend to teach students about terminology, techniques, and proper ways to treat animals.
Skills and Experience
Also, you're expected to acquire the necessary skills to properly make use of grooming techniques.
These skills are taught to you by experienced dog groomers already taking the array of responsibilities as second nature.
As a dog groomer in Texas, knowing how to bathe, clip nails, cut/trim coats isn't enough.
You're expected to know as well the:
Different breeds of dogs
Proper grooming methods for each breed
With numerous breeds, it's highly encouraged that you get prior knowledge and experience to be familiar with them.
You can do this by volunteering at animal care facilities and/or researching online.
When the time comes, employers would like to see that you know your duties and are able to perform them well.
Personal Qualities and Competencies
A dog grooming career is pretty selective.
To take care of dogs well, especially their well-being, you must possess the following qualities.
Creativity, so that you'll be able to see what style suits the dog best
Patience, so that you can keep up with the pet owner's demands
Carefulness and cautiousness, so that you won't unintentionally hurt the dog
Smart and skilled, so you can make it a friendlier and safer experience for the dog
Requirements to Become Dog Groomer in Texas
Texas, like many states, doesn't require any particular prerequisites.
It's enough to have a high school diploma or a GED equivalent.
Still, many decide to attend some training programs in dog grooming.
In it, you're expected to finish course requirements consisting of written and practical tests.
Certification and Licenses
As of now, there are yet unified certification and licensing requirements recognized by law.
However, many schools offer programs with certifications that you can take.
The National Dog Groomers Association of America is the nationally-recognized body that issues certifications to qualified dog groomers.
In fact, employers prefer that you get NDGAA's certification as it means that you're a highly-skilled professional.
And so, it increases your chances of getting hired over other candidates.
Job Prospects in Texas
The job opportunities in Texas are equal for all applicants.
So it doesn't matter if you only have informal education and training or have enrolled in a dog grooming school.
Your employment will ultimately fall into the potential employer's hands.
Their decision will depend on three criteria: technical knowledge, skills, and experience.
In fact, according to the Bureau of Labor Statistics, animal caretakers like groomers would see a 34% growth by 2030.
This means 93,600 more job openings for you!
It's fortunate that Texas has many animal care facilities dog groomers can work at.
Well-established animal facilities will look for dog groomers ready to meet their daily duties.
Someone eager and driven, especially in advancing their career.
As such, your path to this career would be good and rewarding.
Potential Salary in Texas
People expect to earn higher salaries.
But your salary depends on several factors, such as:
Social factors
Number of pet owners
Region's development
According to Salary.com, professional dog groomers in Texas earn, on average, $35,001 per year as of December 2021.
However, it can go as high as about $51,000, especially if you're particularly skilled and very experienced.
The data below shows your average annual salary if you belong to a certain percentile.
| | |
| --- | --- |
| Percentile | Salary |
| 10% | $22,774 |
| 25% | $28,601 |
| 50% | $35,001 |
| 75% | $43,601 |
| 90% | $51,431 |
In addition, when deciding which Texas city to apply to, it's good to pay attention to the salary of each city.
The table below shows the salary in some cities in Texas annually.
| Location | Avg. Annual Salary |
| --- | --- |
| Houston | $35,516 |
| Dallas | $34,315 |
| San Antonio | $33,693 |
| Austin | $34,078 |
| El Paso | $30,307 |
| Fort Worth | $33,763 |
| Arlington | $33,707 |
| Corpus Christi | $32,134 |
| Plano | $34,167 |
| Garland | $34,241 |
Helpful Resources
We don't want you to be ill-equipped in your dog grooming path.
That's why here are some helpful resources that you can visit from time to time.
You can even benefit from some of them in your pursuit of continuing education.
Popular Programs
How to Become a Dog/Pet Groomer by State