Featured Online Programs
Sponsored
One of the career choices of animal lovers is becoming a service dog trainer.
It's a rewarding yet demanding career.
According to some trainers, the most difficult part of this job is working with other people.
But don't let this deter you!
If you're ready to turn your love for animals into a lifelong career, then read on and learn how you can start as a service dog trainer.
Education Needed to Be Service Dog Trainer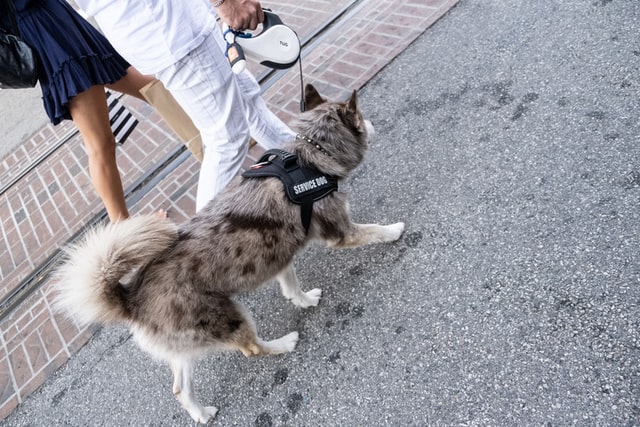 There are no standards or certifications for service dog trainers.
Anyone is allowed to train dogs and start their own business or training organization if they want to.
In most cases, trainers are either self-taught or have learned skills from other more experienced trainers.
They may also have consulted books, online courses, videos, or short seminars about it.
However, we suggest you get some formal training.
There are schools around the country that train service dog trainers.
And even though they are small, they provide excellent education and skills.
One of the good schools to enroll in is Bergin University of Canine Studies.
They have knowledgeable instructors intent on teaching you hands-on training using non-aversive methods.
They offer degrees in canine studies.
Associate of Science in Assistance Dog Education
Associate of Science in Business and Companion Dog Studies
You can also opt to enlist in their seven-week Service Dog Training Seminar.
Upon completion, you'll receive a certificate as proof of your training.
You can also visit these organizations for more information on getting certified as a trainer.
Service Dogs and the ADA
The Americans with Disabilities Act (ADA) was created to allow disabled individuals to use their service dogs in public.
It doesn't matter whether the service animal has been certified by the state or other authority.
The law ensures that these people won't get discriminated against by establishments.
ADA was also created to allow people with disabilities to train their own service dogs.
Mostly because professionally trained animals are expensive and most can't afford them.
In fact, some service dogs may cost up to $10,000.
Service Dogs and the USSDR
The United States Service Dog Registry (USSDR) has defined the latest animal training and behavior standards.
They also assist with animal registry online, which is completely free and voluntary.
It's an organization run by volunteer trainers and service dog owners.
This group wants to give others the opportunity to comply voluntarily with the following:
The ADA law
Community-defined training and behavior standards
USSDR'S Purpose
USSDR wants a person to voluntarily hold themselves and their animal accountable to a higher standard.
To do this, they can sign in public a specific set of training and behavior standards.
This registration doesn't make the animal an officially-recognized service dog.
However, this registry will be suspended or removed if they follow the standards.
Registering with USSDR vs ADA
Under ADA, people with service dogs don't need to show proof like a training certification.
They're not also required to be trained or certified with any legal organization.
In the case of USSDR, they only want to minimize the number of people abusing the ADA.
So when registering with them, a person has to understand and accept the following:
What is involved with training and using a service or assistance animal?
How important is their behavior and that of the service dog is to the general public?
How about with other service animal teams?
What a service or assistance animal is
The minimum training standards for a service animal
What is involved with a public access test?