To work as a vet tech, the first step is to complete a vet tech course.
Vet tech courses teach the knowledge and skills needed to be capable in the profession.
They typically take two years to complete.
Then, take and pass the state and national exams to get licensed and registered.
These exams ensure that only those who have developed competencies in vet tech skills and areas can practice.
Altogether, the entire process should not take longer than a few years.
If you are in Los Angeles and interested in becoming a credentialed vet tech, take a look at the vet tech schools in Los Angeles below to see your options.
Featured Online Programs
Sponsored
Los Angeles Pierce College

About the School
Los Angeles Pierce College is a public community college located in Southern California, specifically in Woodland Hills.
Founded in 1947, they provide two-year educational programs that open opportunities for transfer education, career training, and lifelong learning.
With their state-of-the-art facilities and expert faculty, they want to prepare students for their chosen fields.
They offer 85 academic degree programs, 60 state-approved certificates, and 145 disciplines to 20,000 students from all backgrounds.
They have onsite, hybrid, and online classes, giving students more flexibility to move through the curriculum and achieve academic success at their own pace.
Their mission statement is "to make a positive impact in people's lives by providing quality, inclusive, and innovative academic, technical, and cultural educational opportunities."
They are dedicated to providing caring, equitable services to their students and the local community to achieve their goals and thrive in a rapidly changing world.
Since 2016, they have been accredited by the Accrediting Commission for Community and Junior Colleges, Western Association of Schools and Colleges.
Courses Offered
The Veterinary Technology Associate of Science Degree Program provides the skills and knowledge needed to be employed as a Registered Veterinary Technician in various capacities and settings.
Its curriculum meets or exceeds all American Veterinary Medical Association (AVMA) standards, and uses a combination of lectures, hands-on laboratory classes, and outside clinical experiences.
It also gives students ample opportunity to work with many different kinds of domestic animals on campus.
Coursework is divided into three categories: prerequisites, general education, and advanced classes.
Examples of Required Major Courses are:
Animal Care Experience
Principles of Animal Science
Animal Health and Disease Control
Anatomy and Physiology of Animals
Fundamentals of Chemistry
General Microbiology
Examples of Advanced Veterinary Technology Classes are:
Animal Nursing
Clinical Procedures in Animal Care
Veterinary Clinical Pathology
Veterinary Radiography
Large Animal Nursing Laboratory
Laboratory Animal Care
Clinical Experience for Veterinary Technicians
Upon successful completion, students will be able to do the following:
Demonstrate proficiency in the Essential Tasks as required by the AVMA.
Have the knowledge, skills, and abilities to pass the state and the national board examinations.
Understand the role of the Registered Veterinary Technician in a veterinary healthcare team.
Develop the ability to appropriately assess and respond to routine and emergency medical cases.
Visit School Website

Address: 6201 Winnetka Ave. Woodland Hills, CA 91371
Platt College

About the School
Platt College is a private postsecondary career school that offers academic programs that prepare students for success in their chosen fields.
Founded in 1985, they have been providing high-quality education that fosters personal and professional growth and develops students to their full potential.
Their mission is "to provide a balanced program of instruction for students" to help them acquire the specialized knowledge and skills they need to get exciting career opportunities in various in-demand fields.
They strive to continuously update their offerings to best serve the needs of students and employers in today's dynamic Southern California business environment.
Accredited by the Accrediting Commission of Career Schools and Colleges, they have campuses in Alhambra, Anaheim, Riverside, and Ontario.
Courses Offered
The Veterinary Technology Associate's Degree Program is designed to provide in-depth instruction and training necessary for entry-level employment in the animal healthcare field.
Accredited by the American Veterinary Medical Association (AVMA), it provides hands-on learning and clinical experience and offers a convenient online class schedule.
It teaches and trains students how to correctly perform typical vet tech duties, including:
Providing nursing care to sick and injured animals
Assisting in surgery
Administering medications
Providing vaccinations
Preparing tissue samples
Performing lab procedures, such as urinalysis and blood counts
Taking blood samples
Taking vital signs
Exposing and developing radiographs and assisting with ultrasounds
Preparing patients for exam or surgery
Recording patient histories
The full program can be completed in as little as 19 months.
Upon successful completion, graduates may sit for the Veterinary Technician National Exam (VTNE).
Visit School Website

Address: 1000 Fremont Ave Building A9W, Alhambra, CA 91803, United States
California State Polytechnic University – Pomona
About the School
California State Polytechnic University is a public university in the western U.S. that offers affordable, life-changing education.
They take pride in their undergraduate and graduate programs in a broad range of areas of interest, including Agriculture, Business, Education, Engineering, Arts, Social Sciences, and Hospitality.
As a polytechnic university, they make use of a technology-enhanced, learn-by-doing approach to education.
They provide their students with plenty of opportunities to apply what they learn in hands-on projects, research collaborations, valuable internships, and service-learning programs.
They strive to be the model for an inclusive polytechnic university that inspires creativity and innovation, embraces local and global challenges, and transforms lives.
They are accredited by the Western Association of Schools and Colleges (WASC) Senior College and University Commission (WSCUC).
Courses Offered
The Animal Health Science Program is a four-year Bachelor's Degree Program that is fully accredited by the American Veterinary Medical Association (AVMA).
Coursework includes animal anatomy and physiology, biology, animal nutrition, chemistry, pharmacology, surgical assisting, anesthesiology, and computer training with specialized training in radiography.
The curriculum requires the following courses:
Core Courses
74 units
Include Clinical Nutrition, Companion Animal Care, Animal Science, Animal Handling and Restraint, Surgical Nursing Skills, Clinical Pathology and Animal Diseases, and Externship in Animal Health Sciences
Support Courses
49 units
Include Basic Microbiology, General Chemistry, Elements of Organic Chemistry, and College Algebra
Elective Support Courses
16 units
Include Genetics of Domestic Animals, Neuroscience, Molecular Biology Techniques, Organic Chemistry, Hematology, Introduction to Vertebrate Zoology, Data Management for Agribusiness, and Management Information Systems
It also requires 68 units of General Education Courses and 0-1 units of Unrestricted Electives.
Visit School Website

Address: 3801 West Temple Avenue, Pomona, CA 91768
Mt. San Antonio College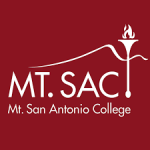 About the School
Mt. San Antonio College is a public community college located in Walnut, California.
Established in 1945, they have a wide range of program offerings — 400 degree and certificate programs, 36 support programs, and 50+ student clubs and athletic programs.
They are home to eight instructional divisions: Arts, Business, Continuing Education, Humanities and Social Sciences, Kinesiology and Athletics, Library and Learning Resources, Natural Sciences, and Technology and Health.
Their mission statement is "to support and empower all students in achieving their educational goals in an environment of academic excellence."
By fostering an engaging and supportive teaching and learning environment, they want to help their students and their community achieve their full educational potential.
They are accredited by the Accrediting Commission for Community and Junior Colleges (ACCJC) of the Western Association of Schools and Colleges (WASC).
Courses Offered
The Veterinary Technology Program is an Associated of Science Degree Program that prepares students for employment as Registered Veterinary Technologists.
It has a rigorous curriculum that integrates lectures with hands-on lab sessions in the school's 26,000-square-foot agriculture building with an animal hospital and their 15-acre working farm.
It provides students with lots of opportunities to work with a variety of domestic animals and livestock.
The Required Courses are as follows:
1st Year
Animal Sciences
Animal Nutrition
Animal Handling and Restraint
Vet Office Procedures
Vet Pharmacology
Lab Animal Medicine and Care
Anat/Phys of Domestic Animals
Animal Sanitation Disease Control
Work Exp in Vet Tech
2nd Year
Applied Animal Health
Medical Nursing and Animal Care
Animal Surgical Nursing
Clinical Pathology
Vet Radiography
Seminar in Registered Vet
Work Exp in Vet Tech
Course Electives include:
Exotic Animal Management
Swine Production
Horse Production and Management
Sheep Production
Horse Ranch Management
Horse Hoof Care
Beef Production
Pet Shop Management
Canine Management
Feline Management
Tropical and Coldwater Fish Management
Reptile Management
Aviculture – Cage and Aviary Birds
The program takes two years to complete.
Day and evening classes are available to accommodate working students.
Visit School Website

Address: 1100 N. Grand Ave., Walnut, CA 91789
---
Veterinary Technician Schools by City in California
See all Schools in California >