There are several reasons why anyone with a high school diploma or GED should consider taking a veterinary assistant course.
First of all, if they are an animal lover, they can get plenty of opportunities to be around dogs, cats, and other pets.
Every day, they are tasked to feed, bathe, and exercise them and monitor their condition.
Next, veterinary assistants are in demand.
According to the United States Bureau of Labor Statistics, the field is expected to grow by 14% in the next 10 years.
Finally, training and certification can be achieved faster than other programs.
These days, many veterinary assistant programs are offered in-person and online and they can be completed in just a few months.
If you are in Columbus, OH, and think this is a career pathway that you should pursue, you might want to enroll at any of the veterinary assistant schools in Columbus, OH we have listed below.
Sponsored Listings
Columbus Humane
About the School
Columbus Humane is a non-profit organization that specializes in animal welfare.
Since 1883, they have advocated for sheltering homeless animals, fighting animal cruelty and neglect, and offering programs to address the needs of animals in their community.
With their team of skilled, compassionate, and caring experts, they are committed to providing the highest quality of care for all animals and the people they serve.
They want all animals to live free of suffering and for all companion animals to become valued members of loving and caring families.
So far, they have cared for more than 8,000 animals and served 49 species.
And, every day, they care for an average of 250 animals and deliver over 35,000 hours of service from their volunteers.
As an adoption and medical resource, they are always looking for donors and volunteers who share their passion.
Courses Offered
The Veterinary Assistant Training Program is designed to prepare students for the needs and demands of the veterinary medicine field.
Every year, it accepts 60 enrollees who will partake in hands-on learning in their clinic.
It requires 40 hours of lecture, 30 hours of hands-on laboratory teaching, and 90 hours of on-the-job training at a community veterinary clinic.
Visit School Website

Address: 3015 Scioto Darby Executive Ct, Hilliard, OH 43026
Columbus City Schools – Adult and Community Education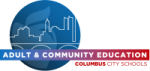 About the School
Columbus City Schools is the official school district that serves the city of Columbus in the state of Ohio.
They are the state's largest public school system, consisting of 118 active elementary, middle, K-8 alternative, and high schools and more than 46,000 students each year.
Their mission is to provide high-quality education for each student, prepare them for leadership and service, and empower them for success in a global community.
Through their Academic and Career Pathways Programs, they open more than 30 education and workforce opportunities for students to explore their interests and develop real-world skills.
From Arts and Education to Science and Skilled Trades, their in-classroom and online courses teach and train students so they can start a viable career or move on to higher education.
Courses Offered
The Veterinary Assistant Series Program provides all the information essential to starting a career as a veterinary assistant.
It is offered as an Adult and Community Education Program and features a wide range of topics that can give students a better understanding of the field of veterinary medicine.
Taught by a college instructor and practice veterinarian, it is a fully online class.
Its syllabus consists of four courses:
Become a Veterinary Assistant
Become a Veterinary Assistant II: Canine Reproduction
Become a Veterinary Assistant III: Practical Skills
Veterinary Medical Terminology
It requires 96 course hours and costs $485.
To enroll, students should have the following:
Interest in responsible breeding practices
Hardware: A PC or Mac
Software: Windows 8 or later (if PC) or macOS 10.6 or later (if Mac)
The latest version of Google Chrome or Mozilla Firefox preferred
Microsoft Edge and Safari as alternatives
Adobe Acrobat Reader
Personal email account
Upon completion, students should be ready to apply for veterinary assistant jobs and work at animal hospitals and veterinary clinics.
Visit School Website

Address: 270 E. State St. Columbus, OH 43215
---
Veterinary Assistant Schools by City in Ohio
See all Schools in Ohio >