Sponsored Listings
There have been many people advocating for public awareness of animal welfare for years.
We are glad that they've managed to achieve this goal since the way animals have been treated has significantly changed.
Now, plenty of animal lovers are eager to be part of the veterinary field to help take care of animals in need.
Some of them go for a career as vet assistants.
Learn more about what steps you can take to become one in Idaho.
What a Vet Assistant Does
Animal care and protection have become a movement today.
It led to the veterinary industry catering to the increasing demands from pet owners and concerned citizens.
Thus, their role has significantly risen in importance.
As a vet assistant, you're the front liner whom the pet owner sees and interacts with in a vet clinic.
Coming to the vet is difficult for them, so you need to be patient and understanding of their feelings.
Part of your tasks as well are the following:
Administrative work
Scheduling appointments
Helping vets during surgery
Sterilizing the equipment
Do postoperative care
If you're educated and certified, you can be assigned more serious tasks like lab work.
And so, being a vet assistant isn't easy at all.
Education Requirements in Idaho
Many young people take advantage of the fact that they only need a high school diploma or equivalent to work as a vet assistant.
No degree or certification or license required.
However, this job requires relevant knowledge and skills in animal health care to be capable of working at animal care facilities.
That's why we suggest taking a vet assistant training program to acquire it.
You may either enroll at a nearby school or through online courses.
Here are some of the schools you can consider:
North Idaho College
Broadway University
Carrington College
There you'll learn the following:
Understanding the recommendations made by vets
Fundamental skills and duties
Administrative management
Upon graduation, you'll be a vet assistant with good qualifications, increasing your employment chances.
NAVTA and its AVA Program
The National Association of Veterinary Technicians in America (NAVTA) aims to help new and experienced vet assistants with their certification.
Their Approved Veterinary Assistant (AVA) program trains you with everything you need to know to become a highly competent professional.
After completing the program, you'll be eligible to take the AVA exam.
Only when you pass it will you be called a legit AVA.
To retain your designation, you must apply for renewal every two years.
Popular Programs
Job Prospects in Idaho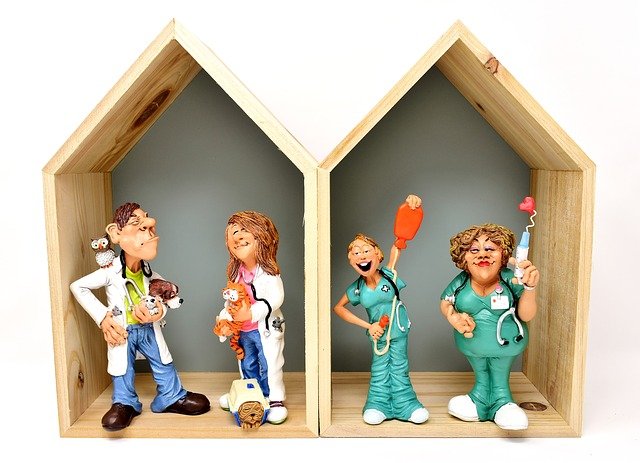 Idaho has plenty of job opportunities for vet assistants.
The state has been keeping an eye on the improvement of animal healthcare to meet the current demands.
As such, it created a surge of hirings for vet assistants.
That's why you shouldn't worry about employment too much.
What you should worry about is fulfilling the qualifications of your potential employer.
Some of the potential employers you can consider in Idaho are:
Idaho Veterinary Medical Association (IVMA)
Idaho Veterinary Hospital
All Valley Animal Care Center
Ammon Veterinary Hospital
Banfield Pet Hospital in Boise and in Meridian
Bear in mind that most vets require assistants to hold a certification.
Potential Salary in Idaho
Your salary depends on several factors.
Duties required
Experience
Skills
Education
Certification
Location
According to Salary.com, you can earn an average of $29,936 a year here as of January 2022.
A well-established vet assistant usually receives between $24,120 and $36,109 annually.
Here's what you can get if you belong to a certain percentile.
| | |
| --- | --- |
| Percentile | Salary |
| 10% | $18,826 |
| 25% | $24,120 |
| 50% | $29,936 |
| 75% | $36,109 |
| 90% | $41,729 |
The table below shows the salaries in different places in Idaho.
Average Annual Salary by Location
| Location | Avg. Annual Salary |
| --- | --- |
| Boise | $29,275 |
| Nampa | $28,967 |
| Coeur D'Alene | $30,362 |
| Idaho Falls | $28,049 |
| Meridian | $29,245 |
| Pocatello | $26,813 |
| Twin Falls | $26,721 |
| Lewiston | $30,463 |
| Caldwell | $28,936 |
| Moscow | $30,362 |
Continuing Education for Vet Assistants
Continuing education is offered to all vet assistants in Idaho.
The following resources are especially beneficial to non-AVAs.
However, certified vet assistants can also find these useful to gather the latest information about the industry.
Final Words
Good qualifications matter in this profession.
You must have the skills, knowledge, experience, and certification for employers and clients to trust you.
Why is this so?
That's because you're taking care of animals in need.
And they want someone who can love and be patient with them during the vet procedure.
How to Become a Veterinary Assistant by State