Sponsored Listings
Today, more and more young people decide to turn their love for animals into a rewarding career.
This has helped them earn a living while doing what makes them feel good at the same time.
Considering the increasing number of pet owners, the necessity for educated and talented vet staff is immediate.
And there you might find your future occupation as a vet assistant.
We advise that you take a closer look at the responsibilities and educational options on this page to make an informed decision.
So without further ado, here's how you can become a vet assistant in Texas.
What a Vet Assistant Does
The job of a vet assistant is amazing since helping animals is equal to helping people.
An animal's happiness and health reflect on its owners.
You have an active job, and most tasks require physical, clerical, technical, and medical skills.
Here are some of the everyday tasks you'll shoulder:
Support vets
Provide basic animal and post-surgery care
Schedule appointments
Record medical history
Provide advice consolation to pet owners
Disinfect exam rooms
Give medications and vaccinations
The amount of daily work you might have depends a lot on factors, such as:
Location of the animal care facility
Its reputation
Education and training
Knowledge and skills
Larger hospitals require you to do more work than smaller facilities.
And if you're eager to learn more and take on more responsibilities, it can also affect your workload.
Typically, you work on shifts, but you may be asked to work on night shifts, holidays, and weekends.
So be prepared to be on call at any time.
Popular Programs
Education Requirements in Texas
People who aren't interested in going to vet schools and universities are not required to do so.
You can start working immediately after high school, with the needed knowledge and training learned at the facility.
But the chances of getting employment are low as there will be applicants who have certification and are given priority.
In order to provide effective care, you need the necessary veterinary knowledge.
As such, proper education and continuous specialization in this field might be of great help.
Vet assistant programs are created to keep you acquainted with the latest practices and standards.
Its curriculum combines hands-on training with flexible online learning.
Here you'll learn animal nursing, lab procedures, and surgery among others.
And if you become a certified vet assistant, you can:
Perform more complicated duties
Know exactly how to help during the surgery
Take blood samples without the supervision of a vet
A few schools and online programs in Texas you can check out are as follows:
Cedar Valley College
Pima Medical Institute
Palo Alto College
Becoming a certified vet assistant in Texas is possible by enrolling in a program accredited by the National Association of Veterinary Technicians in America (NAVTA).
NAVTA offers three ways in becoming an Approved Veterinary Assistant (AVA):
Externship Option – most frequently used by newcomers in a veterinary practice looking for employment
Experiential Learner – for the working vet assistants
Veterinary Assistant Program – for those employed in a full-service vet practice and who work at least 20 work hours per week
After the course, you will have to sit and pass an AVA exam to get your certification.
Job Prospects in Texas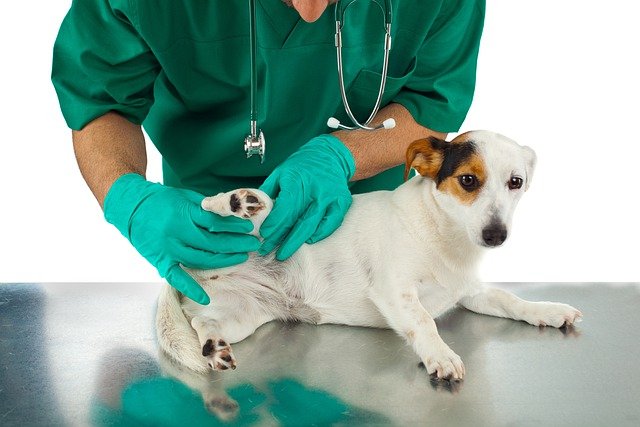 You're now ready to find employment.
But if you don't manage to find a job immediately, we suggest that you start volunteering as the practice can make you an even better assistant.
The good news is that job opportunities are expected to grow in Texas.
Here are some potential employers you can submit an application to:
Texas Veterinary Medical Association
Veterinary Centers of America Branches

Bedford Meadows Animal Hospital
Oso Creek Animal Hospital & Emergency Center
Lakewood Animal Hospital
Ben White Animal Hospital

Vetco Wellness Centers and Vaccination Clinics in:

Fort Worth PETCO
Arlington PETCO
Plano PETCO
Potential Salary in Texas
Location is a big factor that affects a vet assistant's salary.
Bearing in mind the fact that salary is quite modest, your education, training, and certification can afford you higher wages.
Salary.com reported that the salary range as of February 2022 is $25,130 and $37,620.
You can earn an average of $31,188 annually here.
Here's how much your salary base could be if you belong to a certain percentile.
| | |
| --- | --- |
| Percentile | Salary |
| 10% | $19,614 |
| 25% | $25,130 |
| 50% | $31,188 |
| 75% | $37,620 |
| 90% | $43,475 |
The table below shows the salaries in different places in Texas.
Average Annual Salary by Location
| Location | Avg. Annual Salary |
| --- | --- |
| Houston | $31,627 |
| Dallas | $30,557 |
| San Antonio | $30,004 |
| Austin | $30,346 |
| El Paso | $26,988 |
| Fort Worth | $30,066 |
| Arlington | $30,016 |
| Corpus Christi | $28,615 |
| Plano | $30,426 |
| Garland | $30,492 |
Continuing Education for Vet Assistants
Vet assistants who possess knowledge are better at finding solutions to difficulties.
Performing sensitive tasks makes you a valued member of the vet team, getting more pay for the work you receive.
So getting further education would be beneficial to you.
Take advantage of the programs and training offered by the following associations.
Select one that matches your interests.
These are available to both working and inexperienced vet assistants.
Final Words
A number of young people are now interested in veterinary science and medicine.
In fact, it's at a constant rise.
However, in some states like Texas, the number is still not enough to satisfy the current demand for vet services.
So the state needs you to help animal care facilities provide excellent animal healthcare to patients.
Should you become a vet assistant here, what awaits you are good job prospects and salaries.
Not to mention the satisfaction you'll get in helping animals in need.
How to Become a Veterinary Assistant by State