Sponsored Listings
The number of young people interested in becoming part of veterinary personnel has increased.
And if you're among them, then a career as a vet assistant might be just for you.
This career is experiencing growth, and there's a high demand for new vet assistants.
Plus, you'd be glad to know that your high school diploma is enough prerequisite to work as one.
But still, it's recommended to acquire some education or training to successfully perform well in the future.
So if you're ready, here's how you can be a vet assistant in Oklahoma.
What a Vet Assistant Does
Most people underestimate a vet assistant's job, and public awareness of how important they are to a vet team should be raised.
There are a few personal qualities that you need to possess to be able to handle your duties, such as:
Good communication skills
Emphatic and compassionate
Observation and problem-solving skills
Every day, an animal's life is in your hands, and these are the responsibilities you shoulder:
Restrain and manage animals
Ensure blood work is properly recorded
Assist in surgical procedures
Assist vet and other team members when needed
There is a difference between tasks performed by certified vet assistants and those without.
Those without have much easier tasks like:
Answer telephone calls and pet owner's questions and concerns
Deal with the cost of routine procedures and products
Prepare client invoices
Ensure pet owners receive the right medications upon departure
Maintain up-to-date medical records
Some tasks may be assigned to them only if necessary for the safety and well-being of the patient.
Popular Programs
Education Requirements in Oklahoma
Getting an education is something you should think about if you want to do this job successfully.
Know that vets elect candidates who are ready to start working immediately without having to be taught.
There are certificate programs available, providing you with the necessary knowledge and skills.
The easiest way to get certification is by enrolling in training programs accredited by the National Association of Veterinary Technicians in America.
Your instructors are well-trained and experienced vets who will teach you about:
Animal nutrition
Health and safety issues
How to treat and prevent parasites,
Insights on dealing with the emotional issues of euthanasia and pet loss
How best to assist pet owners in a time of need
Manage animals and adapt to their behavior
How to be careful and protect yourself during procedures
Safety hazards in the vet clinic
Economics and marketing
Note that the courses will depend on the school's curriculum.
So the lessons you acquire may or may not include one or two things listed above.
These are some schools offering the program (in-class or online) in Oklahoma:
Community Care College
Moore Norman Technology Center
Murray State College
Upon finishing the program, you can opt to take the Approved Veterinary Assistant exam.
Passing it will prove your skills and competencies in the veterinary field.
And every two years, you need to renew it to retain your designation.
Job Prospects in Oklahoma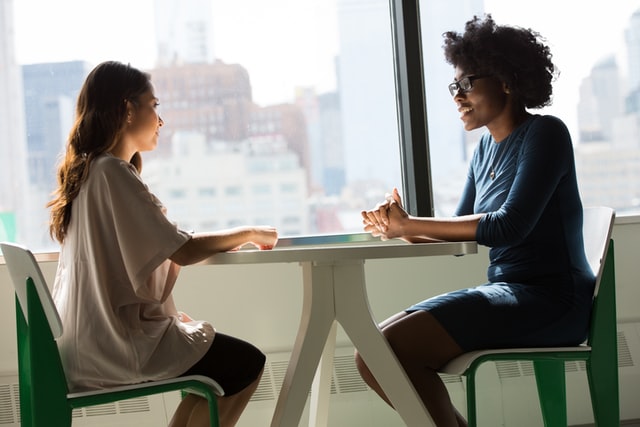 With your training and certification, you shouldn't worry about employment that much.
You'll be given priority and preference by employers by virtue that you already know what's expected from you.
There are many places you can apply to like vet clinics, ranches, and zoons.
Below is a list of potential employers you can find in Oklahoma.
Oklahoma Veterinary Medical Association
Veterinary Centers of America Branches

Woodland Broken Arrow Animal Hospital
Owasso Animal Medical Center
Veterinary Medical Center
Kickingbird Animal Hospital

Vetco Wellness Centers and Vaccination Clinics in:

Oklahoma City Petco
Norman Petco
Edmond Petco
Stillwater Petco
Potential Salary in Oklahoma
What a vet assistant earns varies from person to person as many factors affect the salary.
For example, someone assigned only to clerical work has a lesser salary than someone who also assists the vet.
Generally speaking, vet assistant salaries are modest.
Nevertheless, you still enjoy the work that you do and find fulfillment in seeing patients healthy and happy.
In any case, Salary.com reported that you can earn an average of $29,855 annually as of February 2022.
The salary ranges between $24,055 and $36,012.
Below you can find the salary percentile for Oklahoma vet assistants.
| | |
| --- | --- |
| Percentile | Salary |
| 10% | $18,775 |
| 25% | $24,055 |
| 50% | $29,855 |
| 75% | $36,012 |
| 90% | $41,617 |
Meanwhile, the table below shows the salaries in different places within the state.
Average Annual Salary by Location
| Location | Avg. Annual Salary |
| --- | --- |
| Oklahoma City | $29,260 |
| Tulsa | $29,603 |
| Norman | $29,075 |
| Lawton | $26,258 |
| Broken Arrow | $29,510 |
| Edmond | $29,167 |
| Muskogee | $29,325 |
| Enid | $28,982 |
| Mooreland | $27,435 |
| Stillwater | $28,982 |
Continuing Education for Vet Assistants
Vet assistants are in high demand now, and many veterinary offices hire only trained workers as staff.
Even though you've found employment, you should pursue continuing education.
Attend seminars and courses.
This way, you can develop more skills and knowledge about this profession and industry.
Final Words
As mentioned, people often underestimate the role vet assistants play in animal health care.
That's why you should prove to them how important and serious your contribution is to this industry.
You help treat and cure wounded and ill animals.
And that's the one thing they can't deny.
To do your job well, you should undergo training so you can know what to do once in the field.
Many schools and institutions offer programs that target specific aspects of a vet assistant's duties.
So learn well, and soon, you'll be a recognized professional providing excellent vet care.
How to Become a Veterinary Assistant by State