Sponsored Listings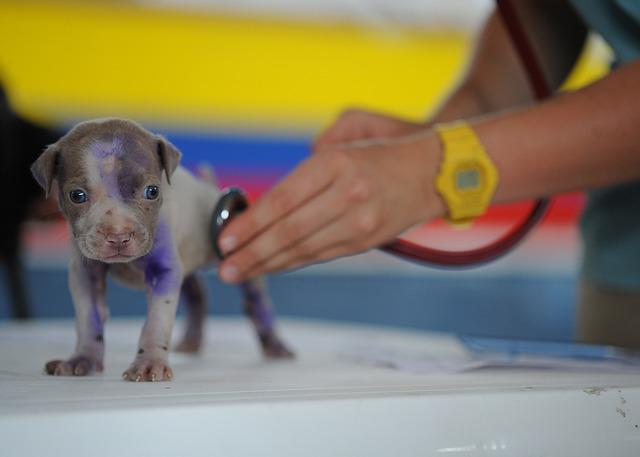 When it comes to the best possible treatments for their pets, pet owners will look for the most reputable vet facility.
This is part of the reason why vet facilities have popped up lately.
It has made the vet team become more important to the entire vet community.
And the team believes that each animal is precious, and full effort should be made to save them.
So if this is your belief as well, then you should consider becoming a vet assistant in Rhode Island.
What a Vet Assistant Does
A successful vet assistant career begins with proper education, despite it being optional.
Because only when you acquire it will you be capable of handling the responsibilities of this job.
Most of all, you'll know how to react when an animal's life is in your hands and the vet's not present.
For instance, when a pet owner calls or visits the animal hospital, you'll meet and communicate with them.
Not to mention how difficult it is to deal with clients in stressful situations, particularly emergencies.
Some consider it even more complicated than dealing with injured and sick animals.
Besides these, you'll also take care of other things, such as:
Administration
Assisting the vet during surgery
Preparing and sterilizing tools and equipment for surgery
Giving medications
Restraining animals
In your daily tasks, you'll mostly be under the supervision of a licensed vet.
Note, however, that you can't diagnose illnesses, prescribe medicine, and perform surgery.
Even so, this job is where you can make a difference, giving you satisfaction and fulfillment.
Popular Programs
Education Requirements in Rhode Island
Now is the right time to become a vet assistant in Rhode Island.
The state has opened more jobs, and it will continue to grow over the years due to the need for trained vet assistants.
So even though you already hold a high school diploma or GED equivalent, enough to start working in this field, you should take the appropriate education and training.
There are schools and online courses offering vet assistant programs in Rhode Island.
One of them is the Community College of Rhode Island.
They have a detailed curriculum, providing the necessary courses and practice you need.
Meanwhile, the National Association of Veterinary Technicians in America (NAVTA) has created its own program called the Approved Veterinary Assistant (AVA).
The AVA is a training with certification program where you can gain knowledge and practical skills in:
Diagnostics
Surgical assistance
Patient monitoring
Critical care and first aid
Nutrition
Medical data storage
Client communication
Marketing
Administration
As of this writing, there are no NAVTA-approved schools in Rhode Island.
However, you can enroll in their online program through these institutions:
VetMedTeam
Penn Foster
Animal Behavior College
VetBloom
The AVA usually takes six months to a year to be completed.
Afterward, you need to take and pass the AVA exam to be recognized as a certified vet assistant.
Job Prospects in Rhode Island
Lately, there are more vet facilities in Rhode Island but not enough trained vet assistants to share the workload.
As such, there's now a rising demand for new vet assistants in the state.
Your employment chances will be greater if you're an AVA.
Many employers prefer AVAs because it means that you already know what's expected of you if you get the job.
Most of all, you require less supervision, which is a plus point in your corner.
Here's a list of vet facilities in Rhode Island on the lookout for capable vet assistants like you.
Veterinary Centers of America Branches

Atwood Animal Hospital
Povar Animal Hospital
Turco Animal Hospital

Vetco Wellness Centers and Vaccination Clinics in:

Middletown Petco
Warwick Petco
North Kingstown Petco

Banfield Pet Hospital in:
Potential Salary in Rhode Island
The annual salary of a vet assistant varies among the cities in Rhode Island.
That's because of the many factors affecting it, such as:
Your qualifications (education, skills, experience, etc.)
Assigned responsibilities
Working hours
Location of the workplace
Nonetheless, the average annual salary in the state amounts to $33,476 as of February 2022 per Salary.com.
Your salary can range from $26,973 to $40,379 annually.
Take a look at the table below for the salary percentile in the state.
| | |
| --- | --- |
| Percentile | Salary |
| 10% | $21,052 |
| 25% | $26,973 |
| 50% | $33,476 |
| 75% | $40,379 |
| 90% | $46,664 |
Meanwhile, the table below shows salaries in different places in Rhode Island.
Average Annual Salary by Location
| Location | Avg. Annual Salary |
| --- | --- |
| Providence | $32,676 |
| Warwick | $32,676 |
| Cranston | $32,676 |
| Pawtucket | $32,676 |
| East Providence | $32,676 |
| Woonsocket | $32,645 |
| Coventry | $32,614 |
| North Providence | $32,676 |
| Cumberland | $32,676 |
| West Warwick | $32,676 |
Continuing Education for Vet Assistants
Knowledge is power, and holding up-to-date information will be advantageous to your career.
Here are a few sites with valuable resources for your perusal.
Final Words
A vet assistant is a valuable member of the vet team.
And so, to contribute to the team's success, you should take the step toward furthering your education.
Enroll in a vet assistant program, acquiring the skills and knowledge required for this job.
Soon, you'll be able to handle all the responsibilities the vet facility entrusts to you confidently.
How to Become a Veterinary Assistant by State